Yes, you could say that I'm excited about the new AUX Bar grand opening! I am a big fan of the people involved, the space is beautiful, and the menu looks amazing! Darlene Moore is one of the co-owners along with husband Chef Mike Moore, and Sam & Chef Steven Goff,the major players behind the Blind Pig Supper Club! Darlene has always done a super kick-ass job of promoting the Blind Pig events over the years, so it's no surprise that she is 100% on top of promoting the shit out of AUX Bar. Here's her latest…
---
THE FOOD NEWS
---
THIS JUST IN: From our Good Friends at The AUX Bar!


AUX Bar Grand Opening and Full Menu Announced!

After two pop ups and a soft opening as well as over a month of hard work and renovations, co chefs Mike Moore and Steve Goff and Operations Director Dalene Moore of the Blind Pig Supper Club proudly announce the grand opening of AUX Bar- AUXillary bar and kitchen to The Blind Pig.
AUX Bar will operate as an American bar and restaurant with farm fresh, seasonally driven, and delicious offerings. This location is now the home of The Blind Pig Supper Club and Brinehaus Meat & Provisions. Bar Manager and Asheville industry professional, Jen Gordon has constructed a one of a kind bar menu featuring all of the best from our local beverage friends and NC producers including Botanist & Barrel Aged Ciders and Social House Vodka. Look for delicious custom cocktails with a fun spin, a stellar wine menu taht competes with the best of 'em, local drafts and some of your favorite imports including but not limited to a King Cobra malt liquor table service- the perfect mix of fancy and trashy (Trancy?).
In our first week at AUX Bar, we will be open for dinner and late night (as late as 2am) seven days a week. On March 5th, we plan to open our lunch service and our first brunch will be on March 10th. We plan to open the new patio bar and grill by the end of April with a menu boasting simple preparations of super fresh and local vegetables, and local meats prepared and inspired by our love for barbacue and international street food. We'll keep the alley buzzing with pop up events, guest chefs and a monthly roating late night big screen cinema free to the public with offerings of film themed custom food and cocktails. Stay tuned to Auxbar.com, follow us on facebook @auxbarasheville and also now on instagram @AUXBARAVL.
Visit us at 68 North Lexington Avenue in the former 'Crepe Bouree' and 'Vincent's Ear' spaces in downtown Asheville. Walk Ins welcome, reservations on open table recommended.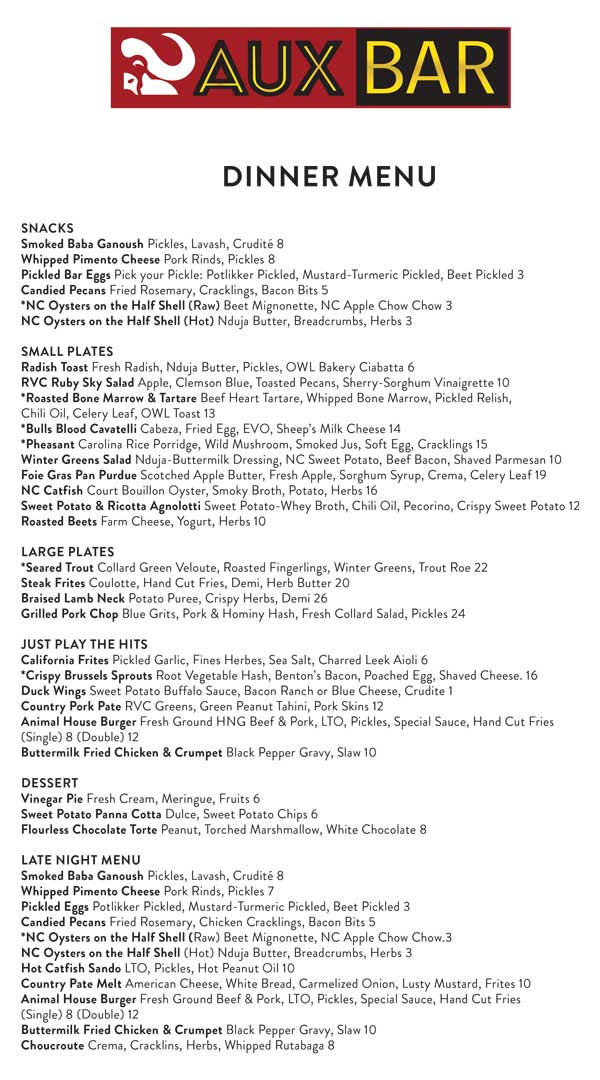 Our newsletters are mailed on a semi-annual basis. If you would like to subscribe to all of our updates and to be notified by email when tickets go on sale please email darlene@blindpigofasheville.com
— END —
---
---
Stu Helm is an artist, writer, and podcaster living in Asheville, NC, and a frequent diner at local restaurants, cafes, food trucks, and the like. His tastes run from hot dogs and mac 'n' cheese, to haute cuisine, and his opinions are based on a lifetime of eating out. He began writing about food strictly to amuse his friends on Facebook.
__________________
External links:
__________________